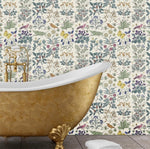 Looking at wallpaper can be overwhelming but its such a wonderful design element so don't be discouraged. Follow our five simple tips to narrow down and select the perfect wall paper.  Check out our the Five Fields Favourite wallpapers at the bottom. 
First question - print or no print?
No print wallpaper is all about texture, to add a depth of luxury to your walls with a sisal, grass cloth or paper weaves.  There are a bevy of tactile options. I love sisal wall paper in a natural linen colour. It's my go-to on the back side of book cases or office walls. It should be used in rooms without a lot of traffic, where hands won't be touching the walls or spills won't happen because it is delicate and not easily cleaned.  


If you are going for a print, narrow down the scale.
A small delicate print or a bold statement print? Small prints work well in kitchens, bathrooms where they can be broken up by cabinetry so they don't overwhelm. Large prints can be dramatic and work well when there are large open wall spaces - think behind a couch wall or hallway. They can be botanical or contemporary, whatever the print, it will leave an impact.


Do you need the wallpaper to solve a problem?
Geometrics can be your friend. Horizontal stripes can make a narrow room feel wider, and vertical stripes can give height to low ceilings by drawing the eye up. Sloped ceilings or awkward angles can disappear with large geometric print.

Pro tip: Any vertical paper can be hung horizontally. The technique is called "railroading".  
Deciding which walls to paper.
Most people are comfortable with a feature wall, or for narrow spaces, two adjacent walls. However, before you choose which wall think of the negative space in the wall (i.e. is there a large window or door that will interrupt the pattern). If you have lots of negative space maybe choose a smaller print so you can still maintain the effect or paper the whole room. Papering the whole room may feel daunting but it can take any room from boring to amazing. Try it in a powder room if you are nervous before heading to larger rooms. 
And don't forget the "fifth wall" - papering the ceiling and leave the walls painted for a design moment that will have all your guests looking up!
Now that you have answered all these questions, use your filter when searching. Don't fall down the rabbit hole and emerge two hours later with no decisions. Most websites allow you to filter by print or grasscloths, scale of the print, and theme, botanical or geometric. Look at the photos with a critical eye reminding yourself that it's your room it's not going into the room in the photo.
Pro tips
Need a co-ordinating wall colour? Wait until you have the  physical paper in hand to colour match for a co-ordinated room as it will be different than the website photo. 


Most wall paper types will have lines available in peel and stick. This product has come a long way and can look as luxurious without the commitment of regular wall paper. 


Measuring a wall with obstacles. When there is a door or window, measure the total length and width of the wall as those obstacles will be cut away during hanging and you can use the extra piece elsewhere, like inside the back of a book case.
Five Fields Favourites
We can order for you from Schumacher. They have fabulous wallpapers like this romantic botanical called Weeping Pine in slate. The perfect scale for a dreamy interior. 
Eliot Tartan by Station D
One of our favourites for a farmhouse look is a plaid wallpaper. This one is a peel and stick paper in a high end matte finish from stationd.ca we have samples from Station D in store and can help you with your order.
Hackfall by Hovia
Woodland themes are having a moment and this is a brilliant Hackfall by hovia.com sophisticated enough for any room including a dreamy office 
Apothecary's Garden by C.F.A. Voysey
Located in Vancouver, the beautiful wallpapers of this famous English architect and pattern designer, C.F.A. Voysey, are available right here at home in Canada. 
They have amazing traditional designs that can work in any home beautifully. This is one of my favourites.