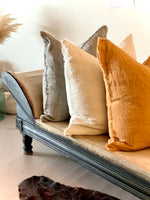 Linen is beautiful and nothing says summer is on its way than luxurious linen. Linen is a textile made from the fibres of the flax plant. Linen is very strong and absorbent and dries faster than cotton. It is one of the oldest textiles in the world. Linen is cool to touch, smooth and get softer with repeated washing.  Many people feel you have to be gentle with linen but its durable and strong perfect for family life.
Our linen pillows and table runners are stone washed Belgian linen sewn in India and machine washable. The classic linen is updated with a frayed edge, making them modern yet timeless.  Our pillows come with beautiful down inserts for the perfect fluff.  Linen is famous for its antibacterial properties. Because it wicks moisture and dries out much faster than cotton, it doesn't let bacteria build up and keeps you cool in the summer as moisture is wicked away.
So Netflix and binge in luxury with our linen pillows at your back or update your table with our grey linen runners, with its worry free chic luxury you will always love your linen!