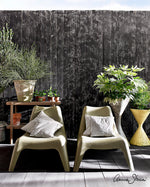 We all need a change of scenery, even if that change is in your own backyard.  Whether you're creating a calm oasis, or a playful family hang out; Five Fields would love to help you transform your outdoor space. 


There are plenty of exciting trends this season, outdoor living this year is all about stylish spaces with definite design moments.  Our need for entertaining space may have shrunk but we all need to expand our indoor space out. Maybe your outdoor space becomes a meditation or yoga area, a reading nook or veggie patches and cutting gardens.  Patio furniture has evolved it looks and feels like it belongs indoors, its comfortable, durable in natural tones and textures that complement your garden.


If you are looking to refresh  a dash of DIY can instantly transform your outdoor area  The versatility of chalk paint means you can paint anything from plant pots, to plastic deck chairs, metal garden furniture, to fences they can be all given new life with a coat of Annie Sloan chalk paint.   Annie Sloan paint will stick easily to anything and its easy to do; just plan for a couple of days with no rain,  all you need is a smooth, dry, clean surface before you start painting, start painting early in the day before the heat of the midday sun kicks in, then give your paint time to dry in the sun and it's ready to seal with Lacquer or simply enjoy.  For perfect results every time remember the mantra for outdoor painting is - paint in the shade, bake in the sun!


Visit Five Fields to check out our new patio seating and while you're there, pick up instructions on how to make paint outdoors with Annie Sloan!

Happy Spring!