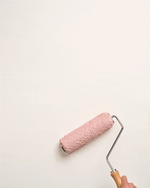 We are so excited to introduce Annie Sloan wall and satin paint.  It raises the issue which paint to use and when; satin, wall or chalk? 
Why use Annie Sloan Wall Paint?
Often the first question about our new Annie Sloan wall paint is; how do finish it?  The answer is just paint and done!   Annie Sloan wall paint was designed to be durable, easy to use with the depth of pigment and curated colour range that you have enjoyed for years from Annie Sloan chalk paint.  The wall paint has been specifically developed for walls, and for all the abuse walls take, so its durable with no extra steps like chalk paint.  
The intensity of the colour and the beauty of the finish comes from the highly pigmented formulation.  Rather than just a few squirts of colour and mixed at a hardware store this paint has colour all the way through resulting in a gorgeous paint that will give your walls a luxury finish.
When you open your can you will see the difference immediately, its rich and thick often one coat is enough.  The paint is low VOC suitable for those who value their indoor air quality.  The rich thick paint envelopes the wall and a little goes a long way with one gallon covering approximately 387 sq ft.  
Choosing a Colour Made Easy
Choosing the right colour for your walls can be daunting, we don't normally study colour and how light changes it and yet we are tasked with choosing the perfect colour that will sit on our walls for years.  Annie Sloan has spent her life studying colour and she has taken the guess work out of choosing a paint colour.  The wall paint comes in 32 perfect curated colours so the guess work of choosing between 1000 colours has been done for you!
Is easy to use
gives great coverage in only one or two coats
doesn't require a primer
comes in just one premium finish, suitable for all walls (no more agonising over different options!)
has been developed to represent covetable, heritage high-quality colour options in 32  shades which have proven the test of time –  as featured in award-winning interiors all over the world.
The expertly balanced pigments, tested in a variety of different lights and mixed to exacting standards will ensure that your colour choice is the perfect choice every time.
One Step with Satin Paint
Wall paint is fabulous but its for the walls, not trim or doors and that's where satin paint comes to the rescue.  Satin paint is my secret weapon, its self levelling so no paint strokes, goes on to metal or wood and doesn't need wax or lacquer finish! 
 Annie Sloan Satin Paint is specifically designed for the most hardworking parts of your home. Annie Sloan Satin Paint is a trim paint, a bannister paint, a radiator paint, a millwork paint, and a kitchen cabinet paint. Use on these areas and the slight sheen (about 10%)  will keep them looking beautiful, durable and well protected for years to come. Even in busy households. So next time you need a quick furniture flip or want to tackle cabinets Satin paint will be your best friend.
Wall, satin or chalk paint or all of them!
All three paints work together beautifully creating a beautiful cohesive look.  In this photo the table is chalk painted in Pure, the chair, the trim and doors are Satin paint in Canvas and the wall paint in Canvas.  All the paint and finishes work so you can easily create a room that you will enjoy for years to come.
When to use Chalk Paint
Chalk paint is a classic and so versatile, while we might be excited by the new additions there is still a time and place for Chalk paint.
Outdoors, satin paint even though I love the self levelling one step process its not meant for outdoors.  Use Chalk paint either with lacquer or simply paint in the shade, bake in the sun.  
Creativity is still the hallmark of Chalk paint; the delicate nuances with colour waxed or the distressing and colour washing techniques you can achieve is the domain of Chalk paint.  
Just remember wall paint is for walls
Satin Paint is for trim, doors, cabinets and one step furniture finish.
Chalk paint is for creative furniture finishes and outdoors pieces.
Happy Painting Everyone!