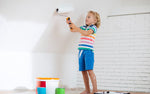 Back to school almost feels like New Years rather than January 1st. It's a time of getting organized, creating new routines, and resolving to be on time every day at school (which lasts until the second day). It's a great time for a reset for kids and adults, and that can start by refreshing your child's bedroom. 

Here are some simple, affordable ways to embrace this new chapter in your child's life with a creative wall paint technique, newly painted furniture, and how to negotiate paint colour.
" Refreshing your child's room can help keep everyone on time and organized for the back to school kick off"
Annie Sloan​​
Back to School Room Refresh with Sample Pots
Whole instagram accounts are dedicated to the latest trend of painting your wall with shapes. The waves, circles, painted headboards, 3/4 painted walls - it's a trend made for sample pots!  Sample pots are wonderful on the pocket book and great for kids who are inspired by what they see online and really want to share their artistic point of view. Teenagers especially have embraced this trend. I have my own teenager that is currently mapping out his room in painters tape to create a multitude of shapes.
The only thing I have asked of him is if the shapes are wild, to keep the colours tonal. Tonal colours within the shapes can keep the bedroom environment calm and ready for sleep. When it comes to picking out colours, the Annie Sloan paint deck is a great way for kids to explore colour, as every colour has been carefully curated, which means no colour mistakes.  

We once gave our then six year old a huge fan deck to choose a bedroom colour and we lived with limey tennis ball green walls for two years - argh!  Annie Sloan wall and chalk paint is also low VOC so your child will not breathing in any harmful chemicals.
Annie Sloan Old Ochre & Paris Grey​​
Teenagers and Toddlers Paint Colour Diplomacy
Sometimes no matter how hard you try to enamour your child with your love of elegant neutrals, they either want super bright or super dark; a colour that automatically presses your buttons and "No way" springs from your mouth. Trust me. I have been there. See the afore mentioned lime tennis green, then we had the dark saturated navy on all four walls, and now everything is black and white. The only way we got through it is first, Annie Sloan paint because the coverage on furniture and walls is incredible, and second is by finding the balance.  
Use art and bedding to balance the wall colour. I loved the moody navy room once it was balanced with regatta flags and crisp linens. And best of all when they choose the colour, the ownership they have over their space is amazing. Rooms are tidier and more organized, there is pride of ownership that we all exprerience as home owners and now they can too. A back to school room refresh can do so much more than just clean up.
Don't forget the furniture
Kids furniture can be take a beating. Project pots in multiple colours can add fun and freshness back to any piece of furniture. When it comes to a back to school room refresh start with their desk.

Personalizing a desk allows the child to exercise maximum creativity knowing that when tastes change you can paint it again without stripping or sanding. Decoupage or image transfers make transferring their favourite images to furniture quick and easy; collages of their favourite quotes or images can provide a boost to any study session.
Annie Sloan by Beau Ford​​
Rooms can be a haven for kids starting a new school year. Refreshing and spending time creating an environment is a meaningful way to mark this new chapter in your child's life. It will give them a sense of pride that will take you through the crazy busy days ahead.

Happy School Year!