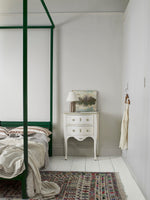 The wall of your bedroom is the last thing you see and the first thing you see in the morning, that's how important it is to pick a colour that relaxes and refreshes you. The bedroom room you want to look great in, feel great in and is the key place to begin is wall colour.
 We picked 5 of our favourite bedroom paint colours from our new Annie Sloan wall paint line that will set the mood for a great nights sleep and a happy morning.  
First up inspired by the legendary French courtier Madame Pompadour, pompadourby Annie Sloan is warm-white neutral that leans towards being a soft dove grey rather than a cream.  This easy to use, delicately pigmented shade reflects the warm complexities, your bedroom walls will shift in the light casting a soothing glow.
Bedroom wall colours that Flatter
Up next is Piranesi Pink, dusty, peach-leaning pink, that compliments the skin in a beautiful way, perfect for the bedroom.  Flattering and soothing the almost flesh coloured and suggestive of setting plaster, the bedroom paint colour is timeless and universally complimentary. 
Cotswold Green comes in at number three and is a universally popular and relaxing colour.  It's a grey-green encompassing qualities of both; the simplicity of grey and the tranquillity of green to give a shade that is easy to use. Perfect to give your bedroom an organic earthy feel, a serene sleep space that will leave you refreshed.
Cool Elegance for your Walls
Paled Mallow is for those looking for cool elegant bedroom, its softly tinted purple-white neutral, sitting directly between grey and blue. The addition of the tinted violet lends itself to a restful room that is not overly feminine but has enough warmth to flatter.  Paired with pure white trim and doors in satin, jute rugs and soft linen throws its perfect for a coastal bedroom look as well. 
Pemberly Blue rounds out our top 5 best bedroom paint colours.  Inspired by the very romantic  Mr Darcy's fictional estate from Pride and Prejudice. This shade is perennially popular, probably because it's so versatile.  Its a deeper look for the bedroom an elegant and sophisticated colour. It's a distinctly cool, slightly green-tinted blue with a lot of white in it.
That's our Five Best Bedroom Wall Paint Colours, all have a different saturation of colour but maintain a soothing quality.  To create a cocoon of colours try painting your trim and doors the same colour.  Bedrooms are  important to our overall well being and now is a great time to invest in a new look starting with your wall colour.  
Bonus colour; For a more moody vibe, try Tyrian Plum, this is a dramatic, rich, jewel-toned plum with both maroon and red elements.  This deeply saturated maroon will flatter most spaces and generate an indulgent atmosphere. A regal yet mellow shade, the warmth, ripeness and depth of pigment in Tyrian Plum make it an ideal choice for dining spaces or bedrooms.